Schaub Team
Blog
Posted by Jamie Jewell on Sep 16 , 2019 - 09:01 am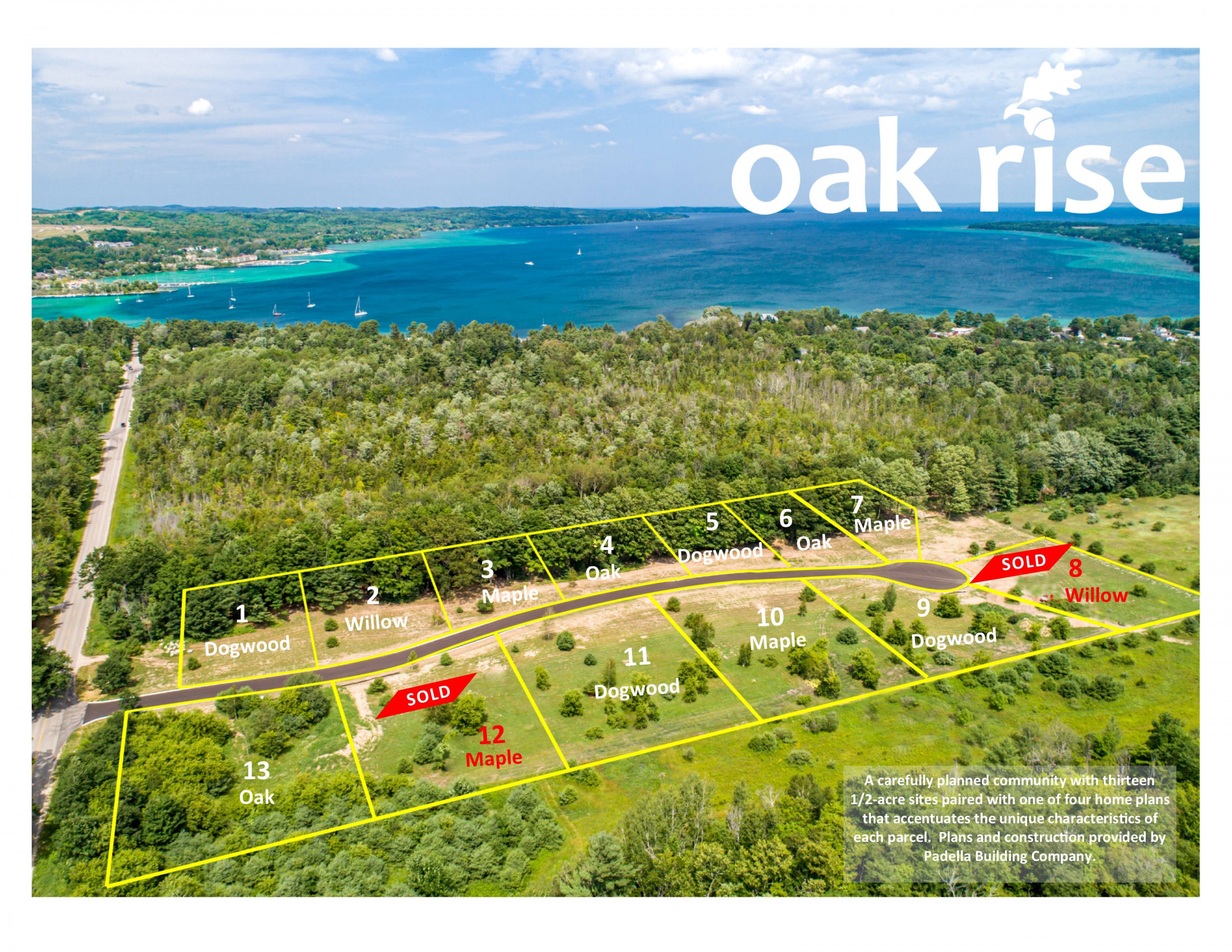 Frank and Micheline Padella of Padella Building Company announced today the development of the site-condominium, Oak Rise located on Richter Road in Suttons Bay has commenced. The site is located on 36 acres and includes protected land along with 13 carefully planned ½ acre+ building sites. Each site is paired with one of four plans for a custom home to be built by Padella Building Company.
Planning for the development dates back to early 2018 when Padella's purchased the Oak Rise property. They recognized the need for smaller, more practical homes in the region. This location provided convenient access to Suttons Bay and the Village's amenities, including the TART Trail, freshwater bay access, while also being in close proximity to Traverse City. What really solidified the concept for Padella's though was the beauty and privacy provided by the site. "It's a very special location with an open meadow, surrounded by tall majestic oak and maple trees", shares Micheline Padella, co-owner of Padella Building Company. "There is also a thriving wetland that is home to a myriad of wildlife including deer, fox, songbirds, and eagles that provides an authentic northern Michigan dwelling."
Buyers can select the building site and custom home plan that best suits their needs. There are four distinct home plans created by Frank Padella each with characteristics that meld style and function to be built with the quality craftsmanship that Padella is known for. Plans range from a two-bedroom, two-bathroom, 1-car garage from $299,000 up to a three-bedroom, two-bathroom, 2-car garage from $399,000.
The development plans and road names pay homage to Ora Lee Eckerle (1911-1995) who resided in that location and was known for her green thumb that was said to "work wonders with vegetables and flowers". So much so, that all summer long, passersby would pull over to get a better look of her yard and gardens hoping from some divine inspiration. Padella's, much like Eckerle, envision a thoughtful community where families and relationships can grow within their natural surroundings.
For more information on Oak Rise, contact Roger Schaub with Schaub Team Premier Realty at Roger@SchaubTeam.com or 231.883.4644 or visit Schaub Team's website.
Since 1976, Padella Building Company has been committed to providing well-built homes using quality materials and current building practices. The husband and wife team, Frank & Micheline Padella have mastered the skills necessary to encompass all custom-building desires. Their team consists of a talented crew, some of whom have worked with them for 20± years. For more information on Padella Building Company, visit their website or call 231.271.4636.
Tags: