Schaub Team
Blog
Posted by Jamie Jewell on Nov 13 , 2019 - 07:44 am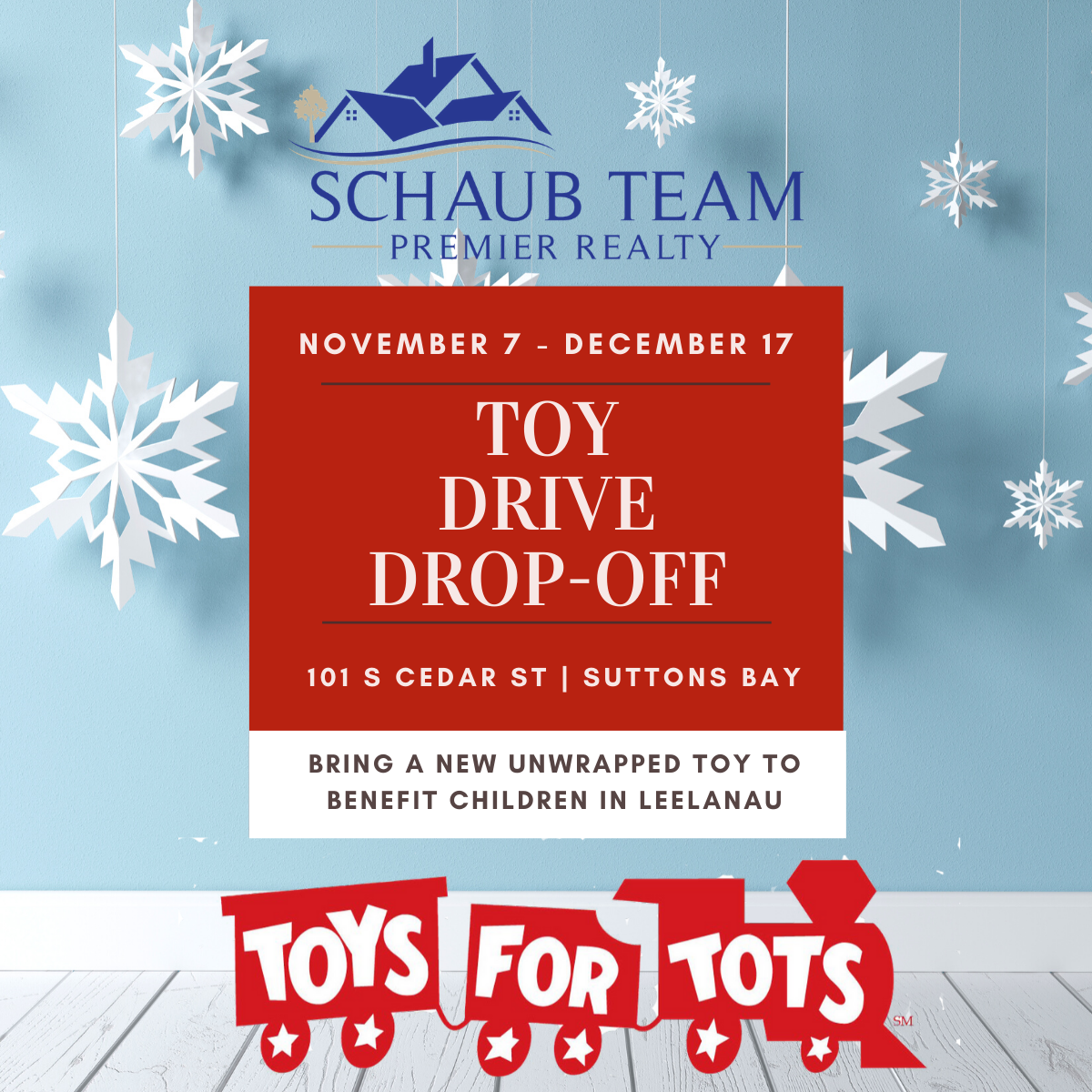 November…the season for giving. This year, Schaub Team Premier Realty joined forced with Toys for Tots ® to distribute toys to children in need throughout several northern Michigan counties including Leelanau.
"We have been blessed to live and work in Leelanau for most of our adult lives," explained Roger Schaub, Broker and Owner of Schaub Team Premier Realty. "Giving back to our community is very important to us all. We're excited to team up with Toys for Tots for a worthy cause."
Schaub Team will participate by collecting and giving new, unwrapped toys for children at their Suttons Bay office at 101 S Cedar St. Donations will be accepted from now until Tuesday, December 17th.
Toys for Tots was founded in 1947 when Diane Hendricks, wife of US Marine Corps Reserve, Major Bill Hendricks made a doll for a child to receive for Christmas. When the Hendrick's realized there was no existing organization to provide children in need with toys for Christmas, they started a campaign. After a successful first year, the Marine Corps adopted the program and expanded it through the country. Since 2001, the program has been ranked as one of the top-rated charities by Philanthropy 400. To date, 566 million toys have been distributed to date, supporting 258 million children.
Schaub Team Premier Realty provides real estate services for Leelanau peninsula and the surrounding areas. Brothers, Tim and Roger Schaub started the brokerage in January 2018 with the help of their niece, Melanie Schaub. As lifetime residents, the Schaubs understand real estate and has over 53 years of combined experience. With offices in Suttons Bay and Leland, Schaub Team is committed to building relationships to better understand the needs of buyers and sellers and dedicated to providing the best service in the industry. Schaub Team now has 3 brokers, 4 licensed agents, and remains the #1 Team in Leelanau County.
For more information contact Jamie Jewell at 231.835.0104.
Tags: