Schaub Team
Blog
Posted by Jamie Jewell on Jan 15 , 2020 - 08:17 am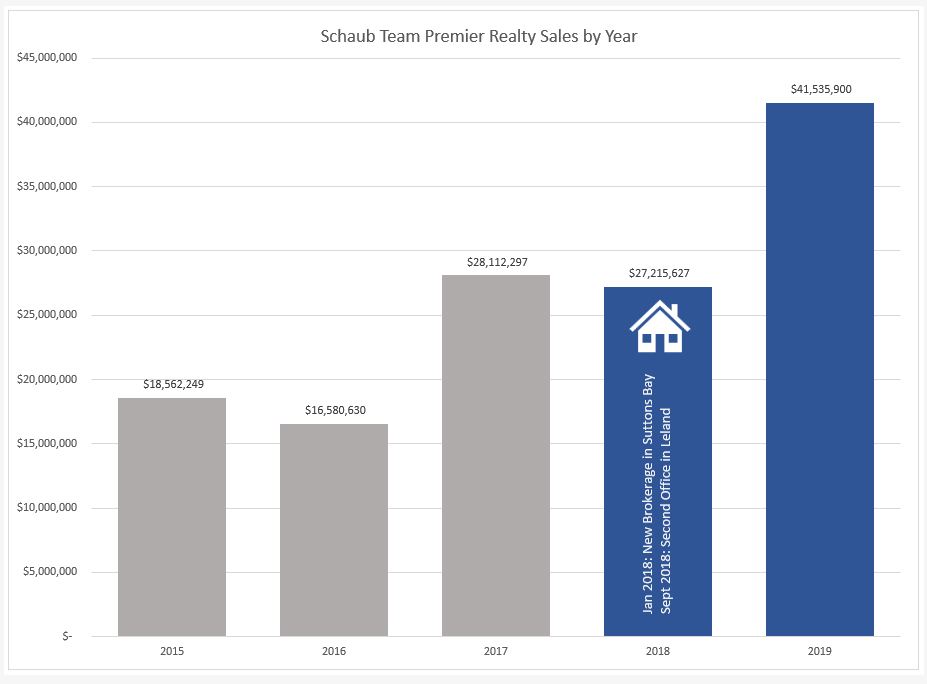 #1 Real Estate Team in Leelanau
Schaub Team Premier Realty produced the highest number of real estate sales in Leelanau County as a team.
Double-Digit Growth
Two years after opening their own brokerage, Schaub Team recorded 88 transactions with a total sales volume of over $41.5 million in 2019. The record year stands tall over the past four years where the team that has increased sales volume by a staggering 150% and transactions by 72% since 2016.
As lifetime residents of Leelanau, the Schaub's (brothers and co-owners Tim and Roger, along with their niece Melanie) have a combined 53 years of real estate experience. Since opening their brokerage in January 2018 have strategically assembled a team of professionals with a range of knowledge including extensive experience across many fields including sales, marketing, administration, and real estate law. The team includes Brokers: Tim Schaub, Roger Schaub; Associate Broker Tim Haring; and Licensed Agents: Melanie Schaub, Joe Campo, Greta Campo, and Jamie Jewell with offices in Suttons Bay and Leland.
Schaub Team Premier Realty provides real estate services for Leelanau County and the surrounding Grand Traverse area. The team is committed to building relationships to better understand the needs of buyers and sellers with a dedication to providing the best service in the industry.
Tags: