Schaub Team
Blog
Posted by Katie Conroy on Jul 06 , 2021 - 08:45 am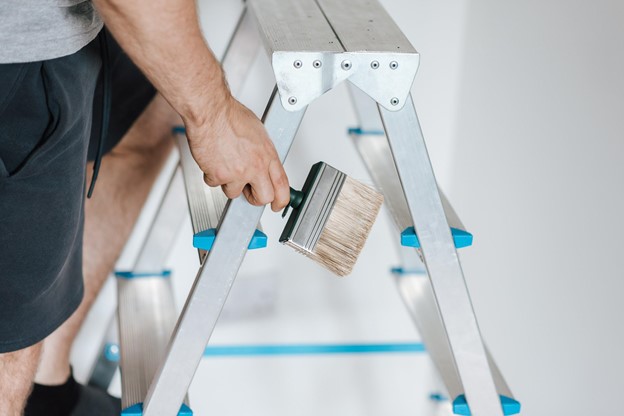 There's a lot to admire about someone who's not afraid to jump in and take on a home improvement project, armed with knowledge gleaned from YouTube videos or old HGTV or "This Old House" episodes. It's tempting to save money by doing home improvements yourself. But professionals will tell you there are some projects you should never try to do yourself.
Some home improvement projects are too complex, requiring specific knowledge and experience, while others are just too dangerous to risk doing yourself. Sometimes, it's worth every penny to hire a contractor.
Painting Kitchen Cabinets
Most people consider painting simple and easy. After all, you only need rollers, brushes, some tape, and enough paint to do the job, right? Actually, there's more to painting kitchen cabinets than slapping on a couple of coats and calling it a day. Years of accumulated grease and oil make it difficult to get it just right.
Reader's Digest notes that degreasing fluid and oil-based paint are essential if your paint is to adhere properly. It's complicated to use the equipment required and most DIYers don't have what is needed. Given the importance of making your kitchen look its best, this is a good job for a pro.
Shower stalls
Many DIYers find that putting in a shower stall is quite doable until you get to the flooring and the components that are intended to prevent leakage. It can be difficult to install the shower pan and the membrane correctly, which can leave you with a leaky stall and water damage in your sub-flooring and walls. It's a good rule of thumb to leave a job that involves plumbing and the possibility of water damage to the pros.
Knocking Out Walls
Removing a wall to create a more open space can make your home feel larger. But it can be a dangerous undertaking. The Spruce warns that if you end up knocking down a load-bearing wall, the results can be catastrophic. If you're determined to do this yourself, before you knock the wall down, have a professional come in to determine whether it's safe to proceed with your plan. If you decide to go for it, you'll need the right tools for this kind of demolition work.
Installing A New Dishwasher
If your new dishwasher doesn't come with free installation, you may believe you can handle the installation yourself without bringing in a third party. Be careful to look over the instructions in detail. It's more complicated than slipping it in place and putting in a few bolts. There are lots of little pieces to account for, and you'll have to deal with water and electricity, which should be a red flag for lots of DIYers. Water lines have to be connected, which will probably require you to drill holes through a cabinet wall. There are many ways it can go wrong. Do yourself a favor and call in a contractor. No need to add a repair bill to the money you just spent on that brand new dishwasher.
Roofing
Anything more involved than replacing a few damaged shingles will probably require the help of a professional roofer. Unfortunately, there are many roofing scams to be wary of these days. Watch out for companies that require a down payment; it can quickly disappear right along with the company you thought you could trust. High-pressure tactics and fluctuating bids are also signs of trouble.
Tree Removal
Removing a few tree branches is simple work, but if a tree needs to be removed due to rot or cosmetic reasons, this project requires more effort. If you aren't able to complete the work without getting on a ladder, you need to find a professional, which you can do by searching, "tree work near me." Without experience, it is hard to predict which way the tree will fall, which could be at the expense of your home, garage, and power lines.
The objective of any home improvement project is to increase the value of your home and improve its appearance and utility. Remember that getting a DIY project wrong can defeat that purpose and set you back financially. Assess an improvement project objectively and honestly before committing to it. Sometimes, hiring a professional is the best option.
Are you ready to make a move? Schaub Team can help. Call 231-883-5555 today to find your next dream home!
Courtesy of Pexels
Tags: