Schaub Team
Blog
Posted by Karyn Stoops on Sep 29 , 2021 - 10:39 am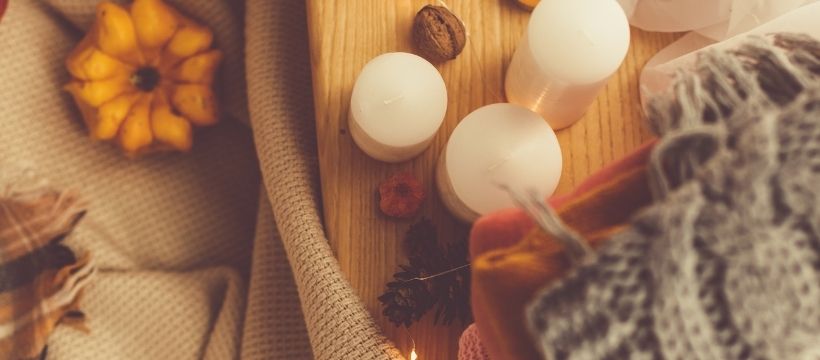 Written by Guest Blogger: Karyn Stoops
Cooler temps and changing leaves are a sure sign that fall is approaching. With a change in seasons comes the desire to prepare a cozy sanctuary with all things comfy and warm. And while it is easy to pull out the same decor staples each year, it is always satisfying to add new elements to enhance a living space.  As we migrate indoors, take the opportunity to create an inviting space for family and friends. Classic fall favorites can be found at all price points and will not go out of style any time soon.  
Vibrant Color Palette
Current trends include warm, earthy neutrals throughout the home, which certainly work all year round.  And while conventional fall colors such as orange, red, and yellow are common, other hues are emerging to breathe new life into your space.  Deep greens and blues can add an unexpected pop of color and a great deal of sophistication.  Experiment with contrasting colors such as blue and orange to create an interesting focal point. These vibrant shades can be incorporated using pillows, throws, table runners, furniture pieces, and wall color.  Deeper shades with rich undertones not only feel appropriate for fall but will take you seamlessly into the winter months.  
Texture with Textiles
Fabrics are one of the easiest ways to add warmth as chilly weather rolls in.  Place a chunky knit throw on a couch, end of a bed, or window seat nook to create an inviting spot to curl up with a book. Other fabrics such as fleece, flannel, and cashmere come in all colors and patterns and add instant comfort to any space. Woven poufs are easy to find, on-trend, and are very useful when extra seating is needed.  Rich velvet pillows are surprisingly affordable while adding character and sophistication.  Patterns such as plaid and houndstooth are forever classics, while geometric patterns add a more modern feel.  Layering fabrics and texture will create a feeling of coziness and help a space look more finished.  
Natural Materials Inside and Out
Flip through just about any decor magazine and you will find natural elements in the spotlight. Rattan, cane, natural wood, and wicker are not just for baskets these days.  These nature-inspired furnishings and decor have gained popularity for both indoor and outdoor spaces and seem to create a feeling of calm. This trend is easy to incorporate on a smaller scale with accent furniture, planters, and even lighting. Jute rugs are also fabulous for entryways and mudrooms to help hide what the boots carry in.
Plants
Whether you have a green thumb or not, plants are a must-have.  Fortunately, almost all come in live, faux, or dried varieties and can be found just about anywhere.  A more natural look can be achieved by incorporating simple sprigs of eucalyptus, olive branch, or pampas.  Real or faux plants and trees can be put in a decorative planter or basket to add a pop of greenery.  Have fun with the vessel too. Incorporating glass, metal, ceramic, or woven materials in interesting shapes and colors will add interest to your design.  
So whether you are simply introducing a new color or texture to liven up your decor, or you need a full transformation-stay true to the things that bring you happiness and make your home a haven. Our surroundings should be welcoming, cozy, and inspiring as we come home to rest and recharge.  
Chic Design Company of Traverse City
Established in 2016, we are your local staging experts offering a wide range of staging and design services.  Our mission is to create beautiful and intentional spaces in order to showcase a home in its best light possible.  Our professional team is ready for any project-big or small.  Please visit us at www.ChicDesignCompany.com to learn more about us or call for a consultation at 231.620.0201
Tags: