Schaub Team
Blog
Posted by Jamie Jewell on May 21 , 2022 - 12:00 am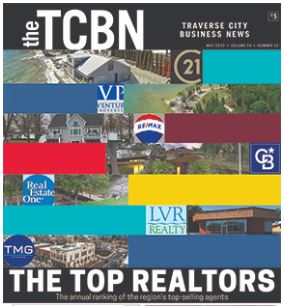 Article published in Traverse City Business News, May 2022.
Banner Year: Top Realtors Extend Market Boom
Though inventory continues to be tight and interest rates are rising, the northern Michigan real estate market booms on. As such, here's our annual list of top real estate sellers, a group of experts who are navigating this record-setting market better than most, with many hitting all-time sales records of their own.

 

Editor's note: This is the seventh year the TCBN has published this ranking for single-family residential sales in Grand Traverse, Leelanau, Benzie, Kalkaska and Antrim counties by local sellers. This ranking is based on the official MLS data provided by Realtors to their regional association. TCBN did not receive any MLS database access nor any information from Aspire North Realtors (formerly Traverse Area Association of Realtors) or NGLRMLS for these rankings; there is no differentiating real estate "teams" from individual sellers — data is published as provided with no changes or manipulations. For commercial-only sales, see second list below.
TOP 2021 SINGLE-FAMILY RESIDENTIAL SELLERS
Don Fedrigon, REMAX of Elk Rapids, $82.4m
Bob Brick, RE/MAX Bayshore Properties, $81.4m
Matthew Dakoske, RE/MAX Bayshore Properties, $46.7m
Linda Schaub, Real Estate One, $45m
Mark Hagan, Coldwell Banker Schmidt, $42.2m
Sam Flamont, eXp Realty, $40.8m
Kimberly Bork, Venture Properties, $40m
Tim Schaub, Schaub Team Premier Realty, $39.3m
Christina Ingersoll, RE/MAX Bayshore, $39m
Jon Zickert, Real Estate One, Beulah/Frankfort, $38.4m
Bob Rieck, Coldwell Banker Schmidt, $33.4m
Ranae Ihme, LVR Realty, $32m
Shawn Schmidt Smith, Coldwell Banker Schmidt, $28.9m
Diane Kemp, Resort Realty at the Homestead, $27.9m
Ann Porter, Coldwell Banker Schmidt, $27.7m
Jennifer Hastings, Key Realty One, $25.1m
Ryan Craig, Coldwell Banker Schmidt, $24.5m
Michael Annelin, Century 21 Northland, $23.9m
Camille Campbell, Coldwell Banker Schmidt, $20.8m
Ted Schweitzer, Real Estate One, $20.8m
Erika Nita, Real Estate One, $20.5m
Vicky Oltersdorf, Oltersdorf Realty, $19.4m
Molly Buttleman, Coldwell Banker Schmidt, $19.3
Janel Brown, Real Estate One, $18.9m
Matt Geib, Century 21 Northland, $18.8m
Jack Lane, Real Estate One, $18.4m
Greg Bosscher, Five Star Real Estate, Cadillac, $18.3m
Roger Schaub, Schaub Team Premier Realty, $18.1m
Toni Morrison, Real Estate One, Elk Rapids, $18m
Tamara McLeod Helsel, City2Shore Real Estate, $18m
Holly Hack, EXIT Realty Paramount, $17.1m
Corliss Beuerle, Century 21 Northland, $17m
Kyle O' Grady, RE/MAX Bayshore, $16.9m
Lisa Rossi-Brett, Five Star Real Estate, $16.8m
Lynne Moon, Real Estate One, $16.5m
Erica Marshall, Real Estate One, $16.4m
Jaimie Fellows-Garno, City2Shore Real Estate, $16.2m
Michael Street, Coldwell Banker Schmidt, $15.9m
Jules Yates, RE/MAX Bayshore, $15.9m
Abby Sierzputowski, Kultura Group, $15.8m
Jeffrey Rabidoux, Crystal Mountain, $15.8m
Steve Scheppe, Century 21 Northland, $15.7m
Janet Piscopo, Coldwell Banker Schmidt, Shanty Creek, $14.4m
Karyn Thorr, Crystal Mountain Realty, $14.3m
Shelly Brunette, Real Estate One, $14.2m
Jean Prangley, RE/MAX Central, $13.4m
Julia Pietrowicz, Keller Williams Realty, $13.3m
Kathy Wittbrodt, Wittbrodt Waterside Properties, $13m
TJ Shimek, Serbin Real Estate, $12.9m
Marsha Minervini, RE/MAX Bayshore, $12.8m
Tags: