Schaub Team
Blog
Posted by Kim Schneider on Aug 09 , 2022 - 08:46 am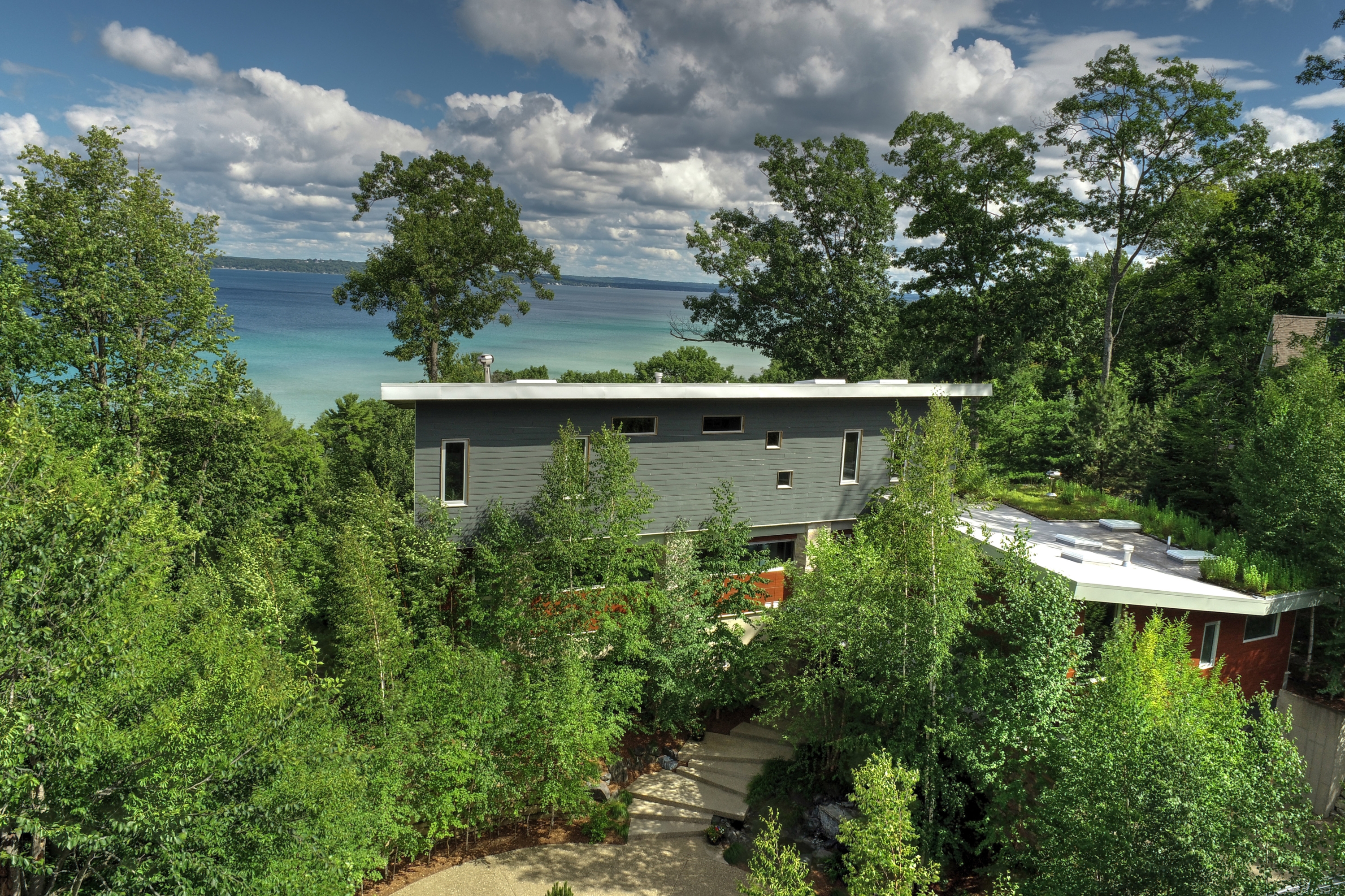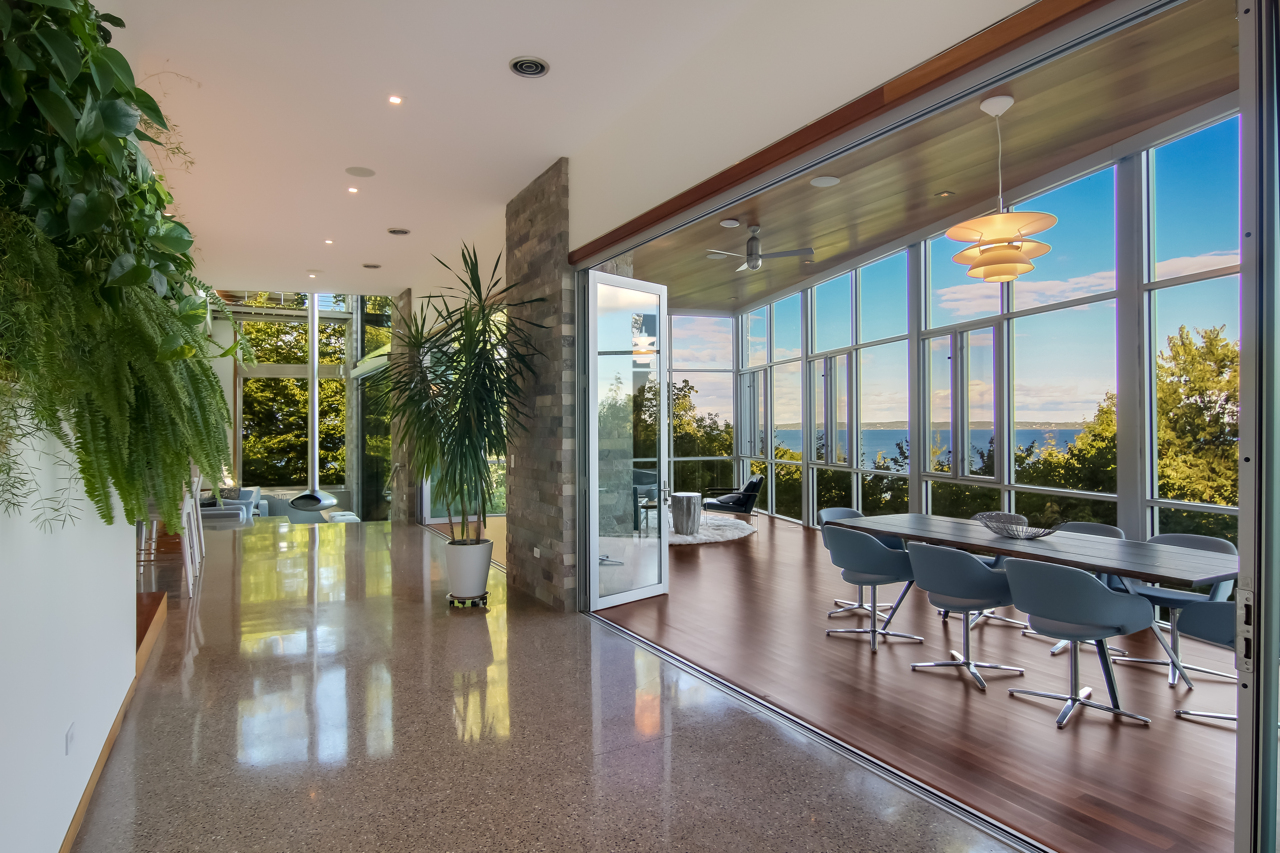 Architect Michael Fitzhugh sought to design a love letter to his home region in this truly magnificent home that wraps together the latest technology in energy efficiency with masterful design. The design draws upon Northern Michigan's landscape and the four elements of the earth as guiding factors. The result is a roomy spa-like home of glass perched like a treehouse over a panorama of Grand Traverse Bay.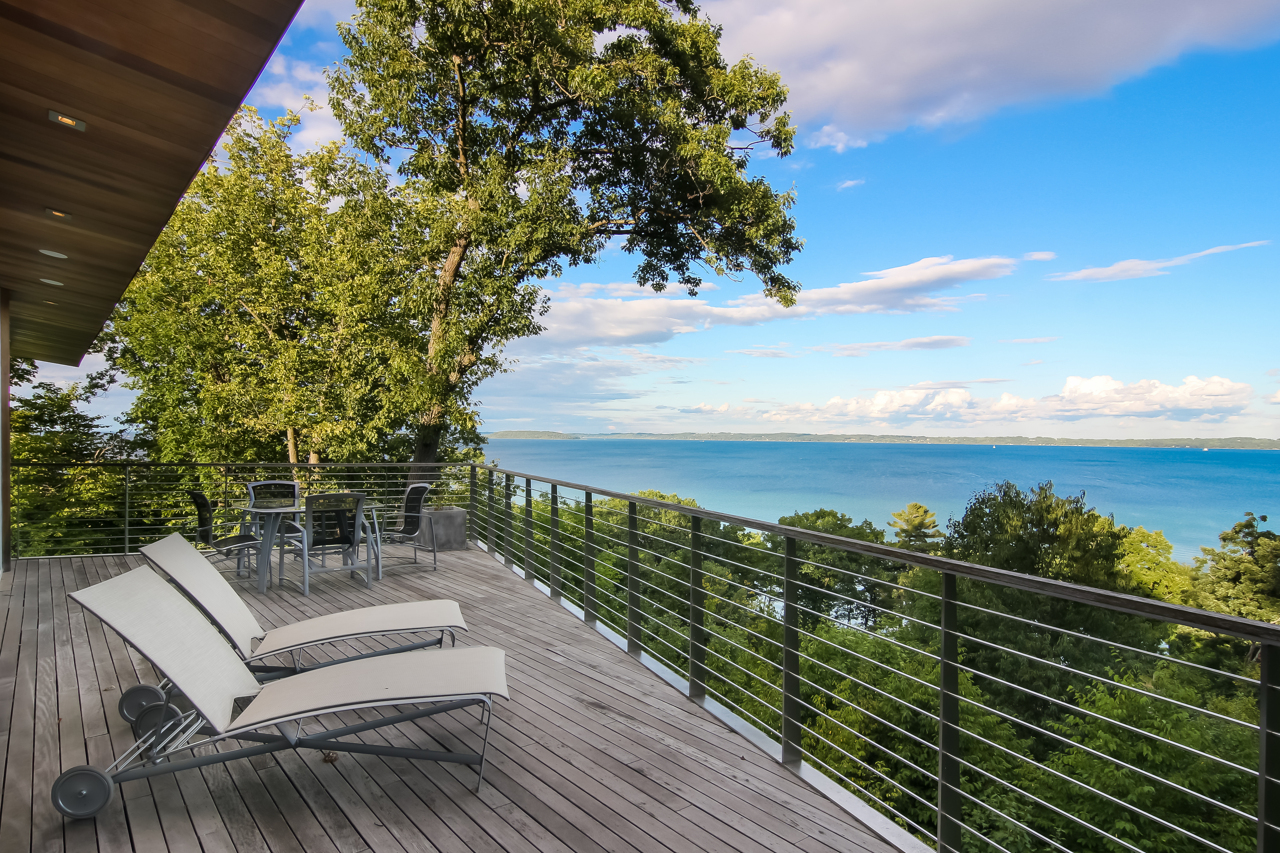 The hilltop location near Traverse City offers natural breezes (air), the view of West Bay from a massive deck and behind that a wall of glass as well as multiple waterfall walls (for water), a private hilltop setting amid mature trees (earth) and fireplaces that hang from the ceiling as if you'd pushed a button to have them lower in front of you (fire).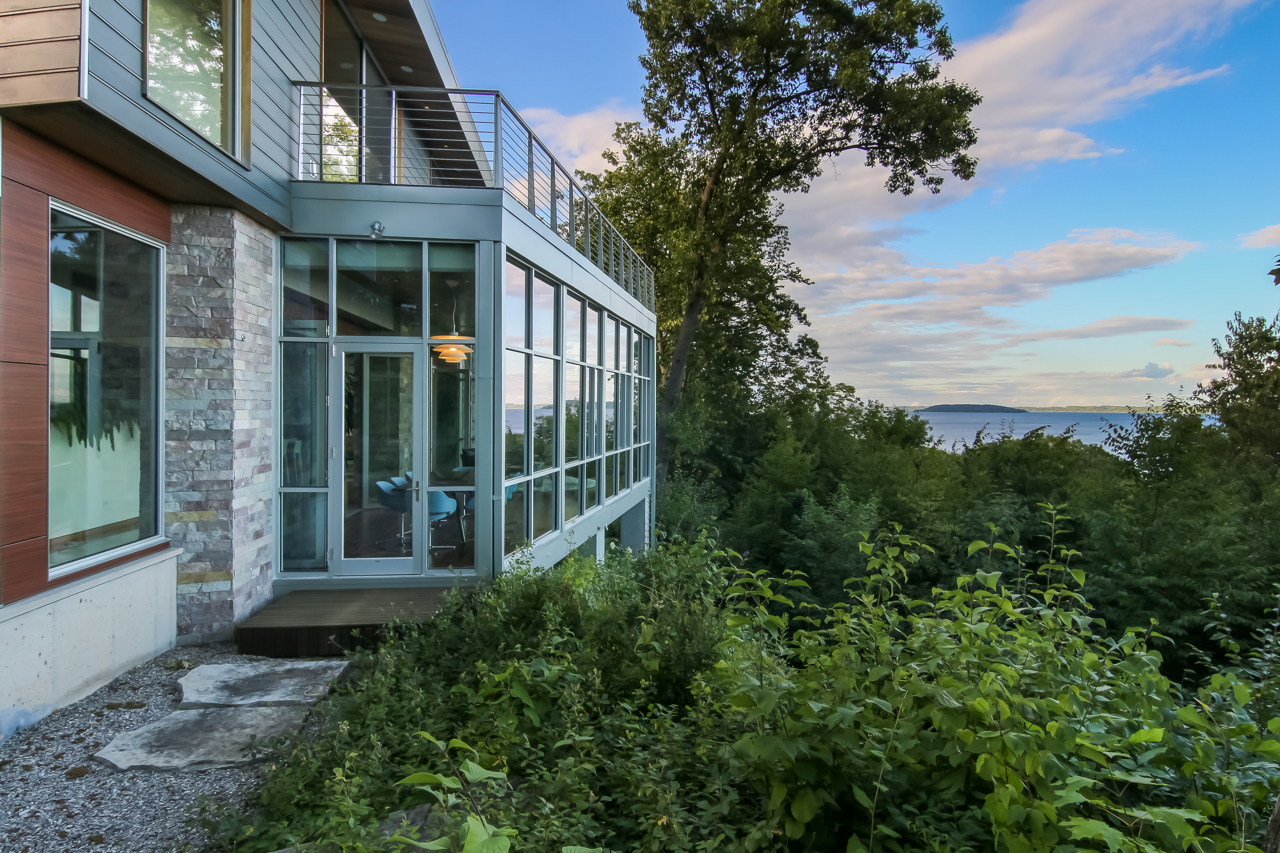 The most striking feature of the home is the 26-foot wall of glass that juts out from the house as if it's hanging over a hillside from the top of the world. The glass across the entire front of the home on every level serves to showcase a stunning lot surrounded by nature. It also helps the spirit soar, another intentional feature in a design that incorporates elements otherwise found in the world's top spas.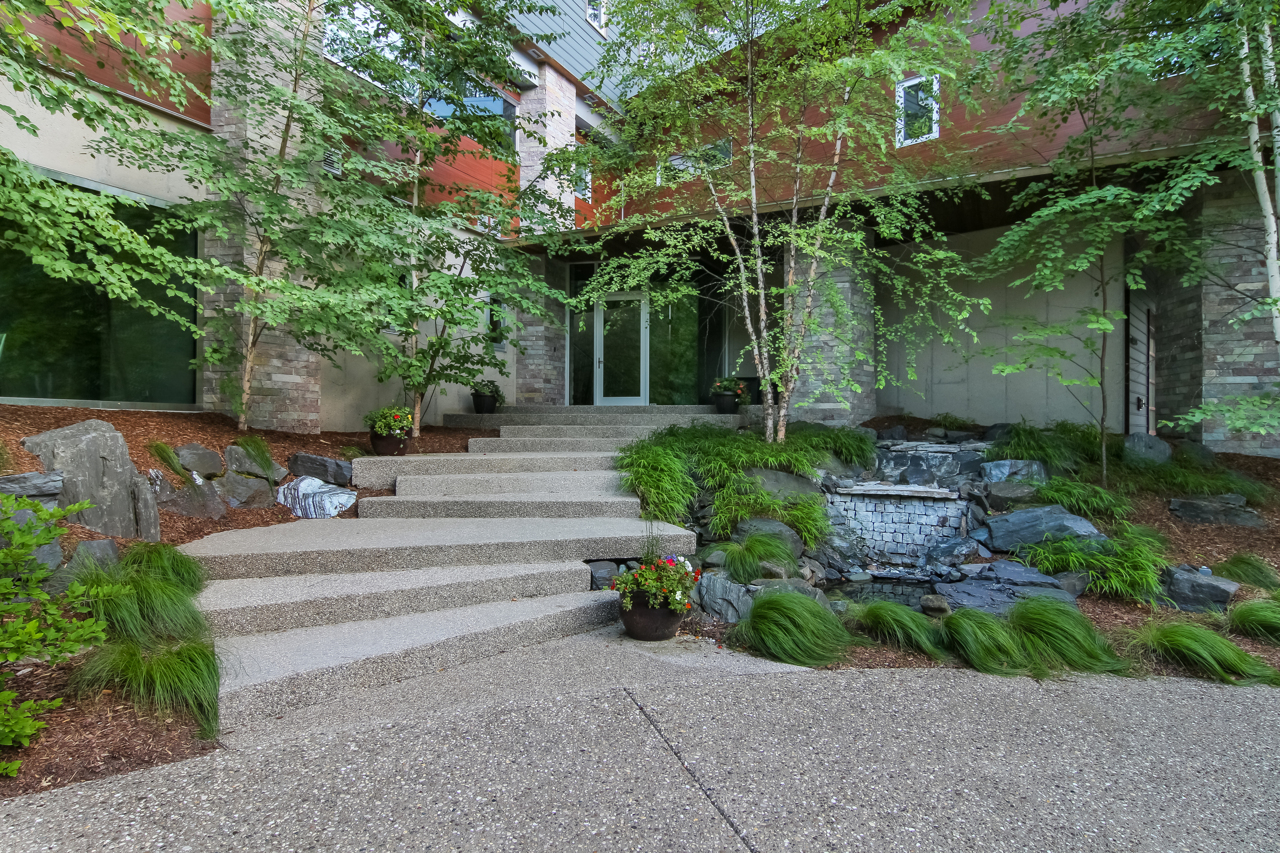 The wow factor, as well as integration of elements, starts at the approach to the home. The home's exterior blends exposed concrete with red cedar and a LEED-certified composite siding designed to resemble wood. The water element is introduced with an outside water feature flowing on the side of the home. Inside, the spa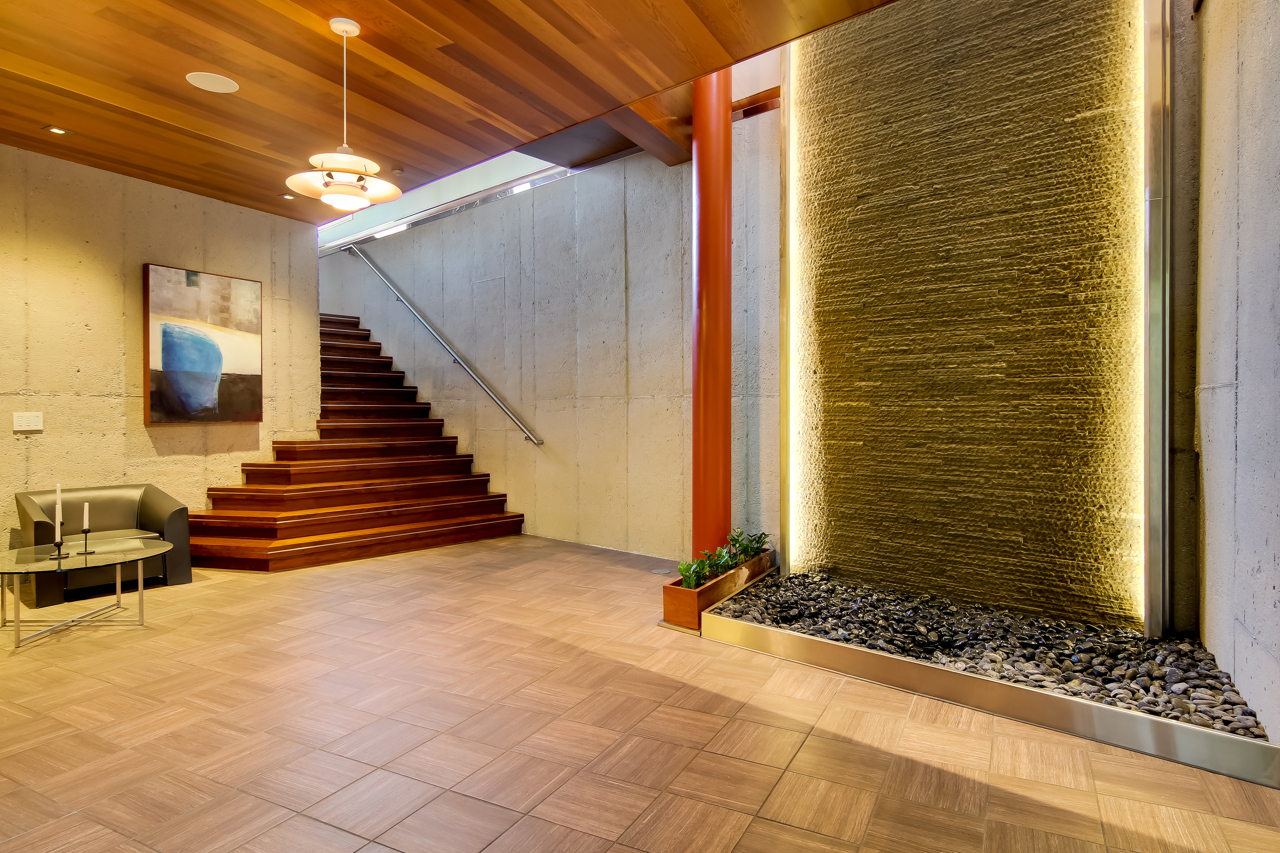 design carries through with an indoor, 2-story waterfall wall, hot tub and cold plunge pool, sauna, and a meditation room. Bathrooms throughout feel spa-like with the way they incorporate small stones, also a nod to the region's beautiful beaches.
The home was featured in Green Building and Design magazine in an article that shares architect Fitzhugh's goal with the home of bringing more energy-efficient solar-oriented architecture to cooler climates.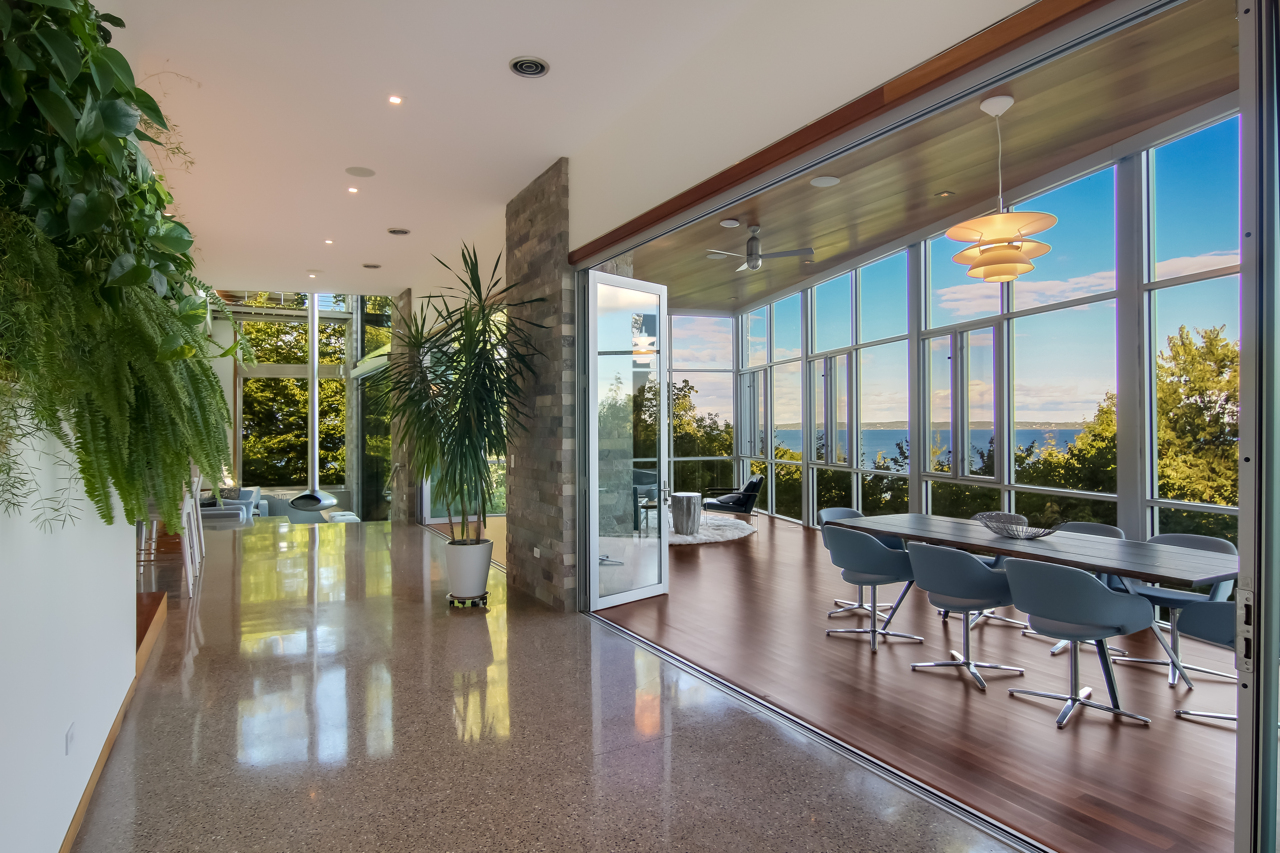 The result is a cost-saving geothermic heating and cooling system. Even a southern-facing sunporch helps to heat the home on winter days.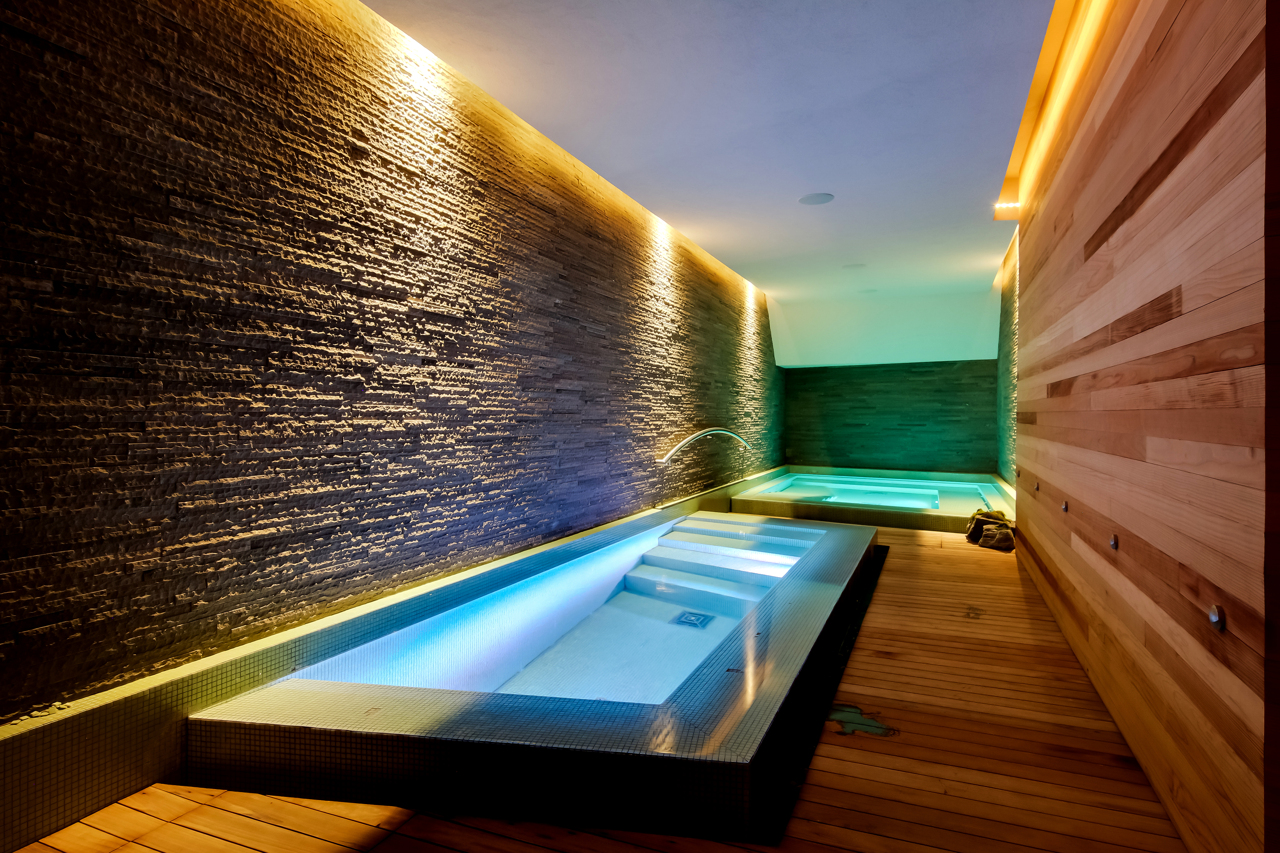 The 6,334-square-foot home includes four bedrooms, 5 baths, 2 powder rooms, a 4-car garage, and 80 feet of shared West Bay frontage and dock.
Custom features cover every aspect of living—both inspirational and practical. Near the entrance on the main level, there's a dog shower and custom crate area. There's also a two-story waterfall wall and the spa—a meditation room, indoor sauna, two pools, changing room, a bathroom, and just one of the home's laundry areas.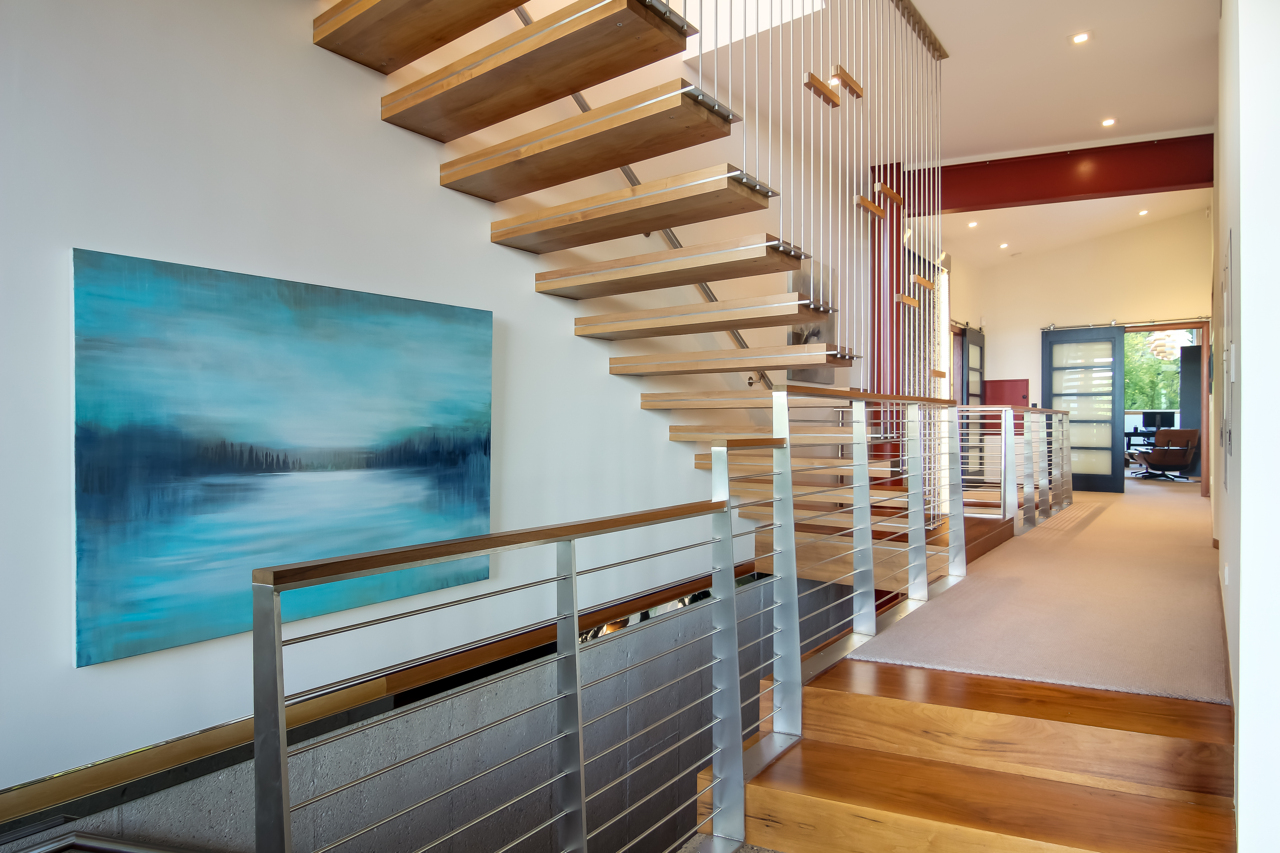 A suspended black walnut hanging staircase leads to the main living area.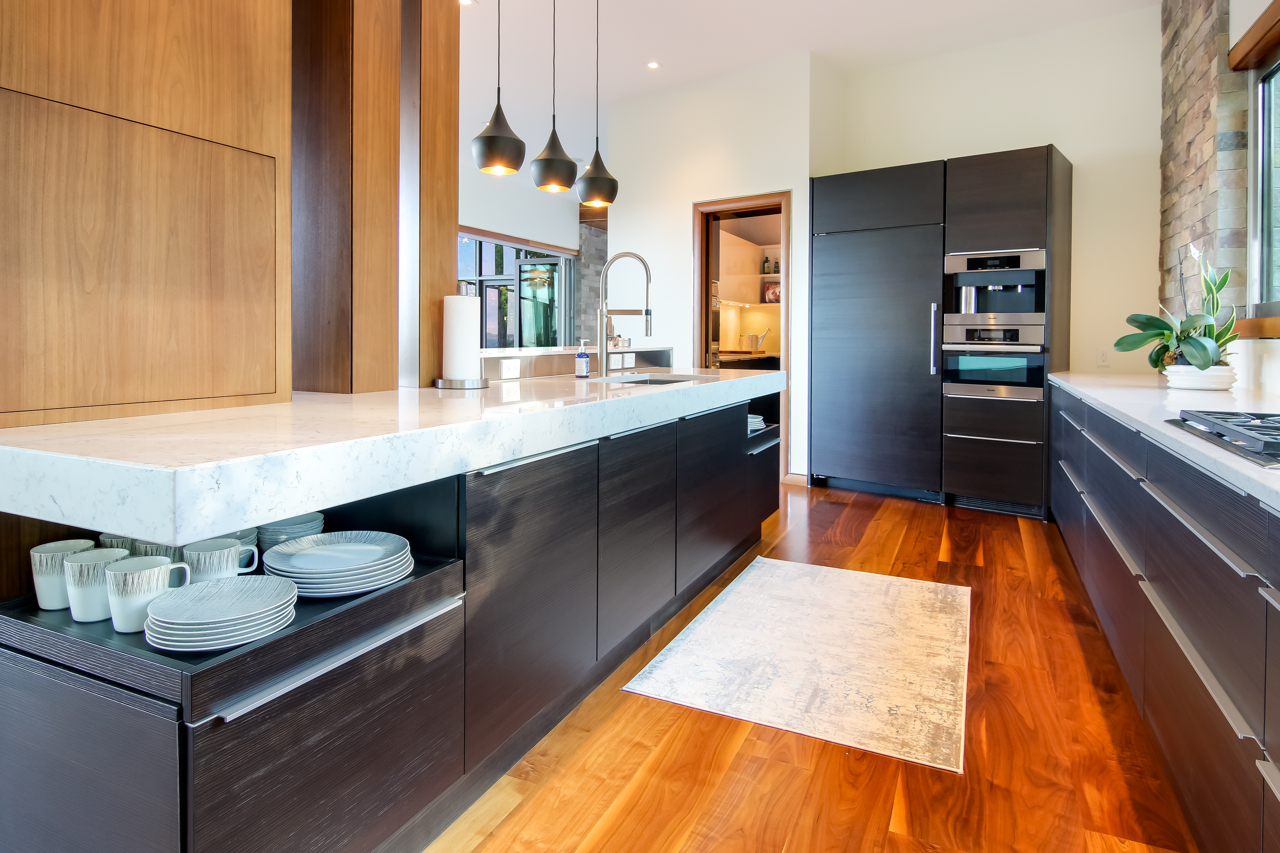 Here, there's a gourmet kitchen with many custom features, an adjacent catering kitchen, a private dining room surrounded by glass, a private sitting area and the showpiece sunken living room of glass, and an outdoor deck. The master bedroom has its own soaker tub, steam shower, his-and-her walk-in closets, and private deck with outdoor firepit. There's a den with fireplace on this level, too, and it could alternately be used as another bedroom. Above the master bedroom deck is a live roof with plants that are both aesthetically beautiful and eco-friendly.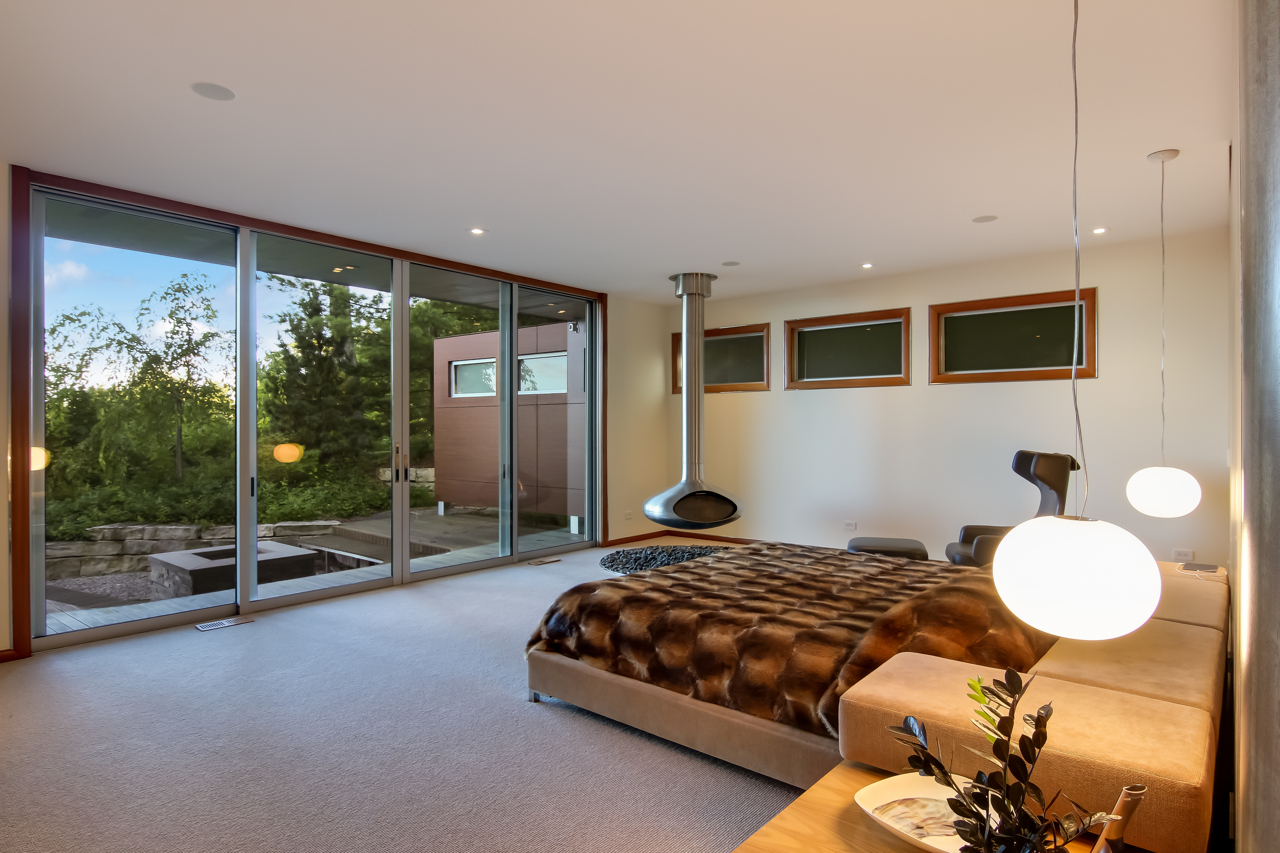 On top of it all, the home's top floor features some of the most stunning views along with two additional bedrooms that share laundry and have en-suite bathrooms.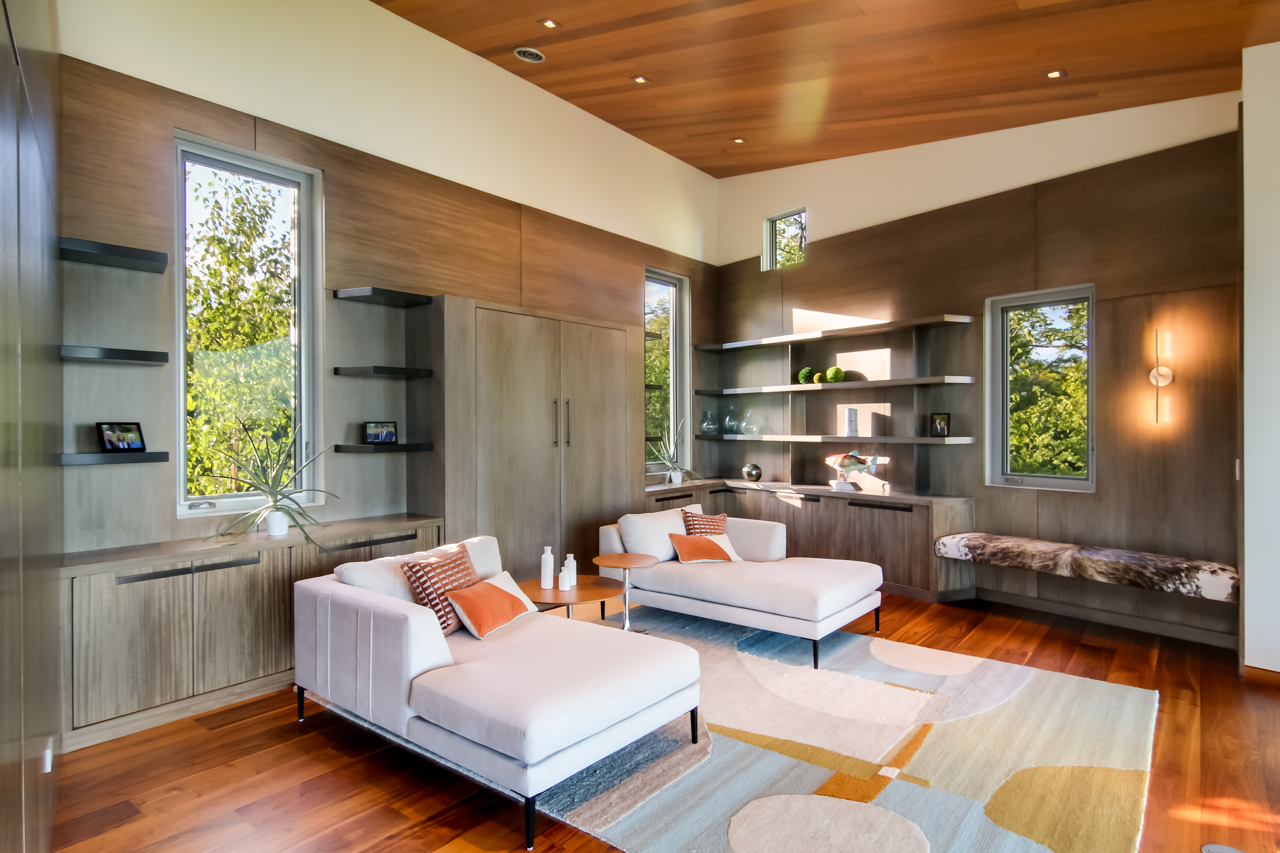 There's also a lofted library with a curly walnut catwalk that can double as a luxurious guest space with its ¾-bath and hidden Murphy bed, custom shelving, and even more architectural magic: a hidden wall leading to a media room with a glass fireplace. A beautiful outdoor deck and lounge area can also be enjoyed from the upper level. Additional features include heated driveways, and two dumbwaiters – one from the lower level near the garage that leads to the second level main living area assists with grocery transport, and a second that goes from the kitchen to the third level media room.
Tags: